SELL YOUR POKEMON CARDS
get

cash

for your Pokemon Cards
Free Appraisals. Quick and Easy Process.
we've paid as much as
$76,500
Old Venusaur Pokemon cards can be worth anywhere between $10 to $40,000 depending on its condition, current market demand, and which set it came from. As shown in our guide, some Venusaur cards can be worth a lot more.
People often approach us with Pokemon collections thinking they have something incredibly rare and valuable when oftentimes this isn't the case. However, if you have a Venusaur card your chances of having something of value increase dramatically.
One of the most valuable Venusaur cards we've ever purchased was a 1st Edition Base Set Venusaur in Gem Mint condition, meaning a perfect card with no scratches or wear.
We've been collecting Pokemon trading cards now for over 20 years and consider ourselves to be the strongest Pokemon card buyers across the entire United States.
Venusaur Card Value Table
| Set | Type | Poor Condition | Average Condition | Mint Condition |
| --- | --- | --- | --- | --- |
| Base | 1st Edition | $50 | $250 | $6,500 |
| Base | Shadowless | $75 | $250 | $1,000 |
| Base | Unlimited | $25 | $75 | $750 |
| Base 2 | Unlimited | $5 | $50 | $300 |
| Legendary | Non-Holo | $2.50 | $10 | $65 |
| Legendary | Holo | $10 | $50 | $175 |
| Legendary | Reverse Holo | $20 | $75 | $250 |
While we consider ourselves to be particularly specialized in Venusaur collections, we take pride in having cast our net wide enough to have a strong understanding of market values for all types of collectible Pokemon cards.
Whether your Venusaur is non-holo in poor condition or a 1st edition mint condition card with no flaws, we are here to help make sure you become educated about rare Pokemon cards.
With all this being said, you may still be unsure of how to get started. We know from a fresh perspective these concepts and "Pokemon lingo" can be a little intimidating at first, and that's why we've created this guide.
Disclaimer: Do not fall victim to selling your valuable collection to a local pawn or card shop that may rob you of what your Pokemon cards are really worth. Contact a Pokemon expert before selling any cards you own.
History of your Venusaur Card
Before we begin, it's important to have a basic understanding of the factors which determine the value of your Venusaur card. To get the most money for your Venusaur Pokemon card, if you're like me, you'll want to educate yourself a little bit before.
If you don't want to spend the time, you can always send us a picture of your Venusaur or collection and we'll tell you how much it's worth.
When it comes to Pokemon cards in general, I'm the biggest nerd you'll ever meet! I hope this guide on Venusaur cards will help you determine the best solution when it comes to selling or finding the value of your old Pokemon cards.
The First Venusaur Card ever printed
The first Venusaur card ever printed was in 1995 in Japan. These cards are called "Topsun" cards and have the potential of being incredibly valuable.
The Pokemon craze had yet to hit North America as the Japanese Pokemon market was starting to really take off.
If you have something similar to what's pictured above, your Pokemon card is likely real, however, the condition of the one above is Gem Mint meaning perfect condition. The better the condition, the more money it will bring.
Counterfeits, or fake cards, are prominent among collections. It's important to realize you may have a fake card and it would be worth nothing in the market. If you are buying Pokemon cards, read our section about spotting Fake Venusaur cards so you do not get ripped off. 
A year later, October 20th, 1996, Japan released the official Pokemon Base Set in Japanese which was the first official Pokemon set ever released.
Remember, the chance of pulling a Venusaur card from a pack of Pokemon cards was and still is, incredibly rare. The combination of having a cool blue/brown cannon turtle artwork along with a low pull-rate means only one thing… A very rare card!
Japanese counterfeit cards are not as common as the English versions, however, they do exist. We're almost always able to spot a fake card simply from the image, as long as the image is clear.
Security features like we have today, textured layers, optically variable holo foils, and advanced printing techniques, etc. have made counterfeiting high-quality Pokemon cards today near impossible. Fake Venusaur cards look pretty obviously fake, but we'll get more into spotting fakes a bit later in this post.
Before moving on to the next section it's good to know the difference between 1st edition, shadowless, and shadow (unlimited) Venusaur holographic cards.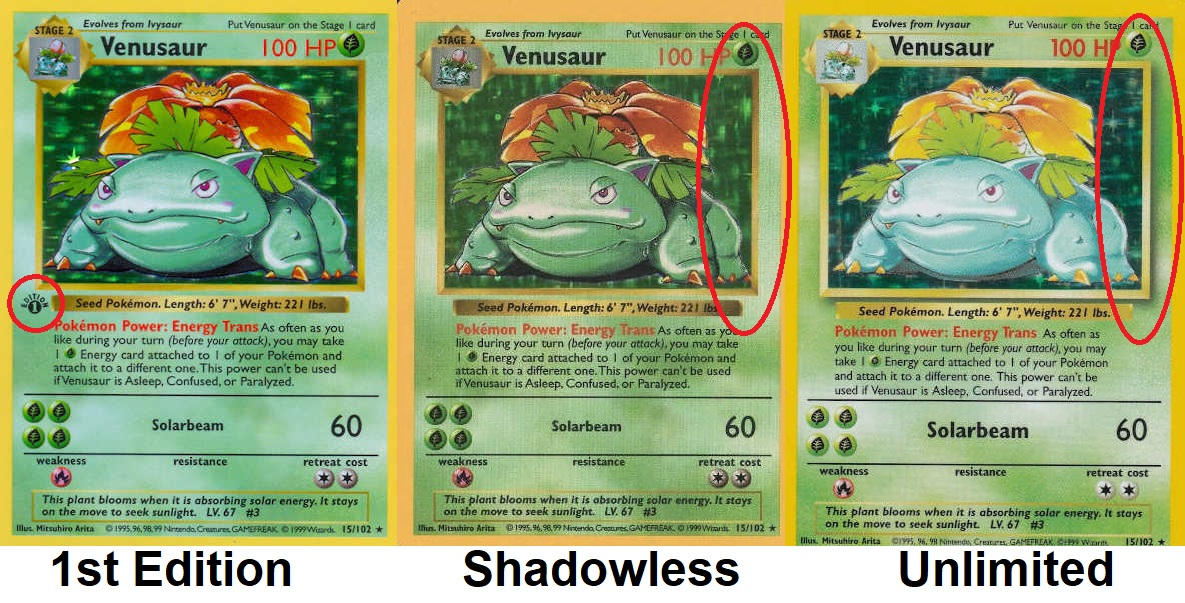 1st Edition cards have a stamp at the lower left corner outside of the Venusaur holo portrait.
Shadowless cards have no 1st ed stamp, and no shadow to the right of Venusaur.
Unlimited cards, sometimes called "with shadow" cards, have a shadow to the right of Venusaur.
The picture above is the holy grail of Pokemon cards, the 1st edition, shadowless, Venusaur card. The card was illustrated by Mitsuhiro Arita, who still actively autographs Pokemon cards today.
The card number, shown at the bottom right corner of the card, is 15/102. If you have a card similar to the one pictured above, you may have something incredibly valuable.
I vividly remember running around my elementary schoolyard trading Pokemon cards with fellow classmates. However, I never owned a 1st edition Venusaur card until much later in my life when I had the money to afford one.
If your Pokemon card has the 1st edition symbol, as shown above, anywhere on your card, you could have something worth a lot of money. Watch out, you may have a fake first edition stamp. Later I will show you how to spot a non-genuine 1st ed stamp.
High quality fake first edition stamps exist, however being able to see if it's fake or not is best determined in person. It's extremely hard to tell if a 1st edition stamp is fake from a picture, especially if you're new to collecting as I was many years ago.
Personally one of my favorite cards is the Shadowless Venusaur. This card is called Shadowless because of the missing shadow on the right side of Venusaur. I will show an example of a shadowed card below.
This was the second printing of English Pokemon base set. This is the order:
1st Edition
Shadowless
Unlimited (with Shadow)
Shadowless cards for all base set Pokemon will bring more money than the Unlimited (Shadow) version of every card. Each card has a 1st edition, shadowless, and unlimited version when it comes to base set Pokemon.
The last Venusaur printed for 1999 Base set Pokemon was the one pictured above, also known as "Unlimited" due to the unlimited print run for the set. These cards all come with a shadow on the border to the right of Venusaur.
Of the three (1st edition, shadowless, unlimited) the unlimited release is the least valuable. Don't get discouraged, as mint condition old Venusaur cards can still fetch a premium in the market.
Looking To Sell Your Pokemon Collection?
Contact us today if you have rare Pokemon cards you are interested in selling for cash!
The card shown above has the same artwork as the previous Venusaur except for the Card Number (bottom right corner of the card) and the set symbol, shown at the bottom right corner outside of the Venusaur design.
Base set 2 Pokemon cards are any card you see with the number "2" set symbol at the bottom right, outside of the artwork.  These cards will be worth considerably less money than their counterparts from the original Base set Pokemon.
This is for a number of reasons, but the main reason being "Base set" was the first set and the print runs were smaller. Base set 2 was printed in large quantities. The exact print quantity was never released by Wizards of the Coast.
Cards from the Legendary Collection set can be easily distinguished by the set symbol, a badge, outside the bottom right corner of the Venusaur portrait.
The example above is a holographic Venusaur, worth much more than the non-holo version. This is pretty consistent among all Pokemon cards. If you have a holo and non-holo version, the holo version will almost always be worth more money.
Last, but not least, is the Reverse holotype Venusaur from the Legendary Collection set. These Venusaur cards are visually blinding but very valuable in mint condition.
Everything outside the Venusaur box is holographic, making it extremely susceptible to scratches. This means mint condition cards are hard to come by and will be worth a considerable amount of money.
Holo Venusaur Pokemon cards will almost always be worth more than their non-holo counterparts, especially in pristine condition. They almost always have different card numbers, seen in the bottom right corner of the card. This holo Venusaur from the Pokemon Expedition set is numbered 30/165 while the non-holo version below is numbered 68/165.
You can expect your non-holo Venusaur card to be worth about a quarter or half the value of the same card in holographic form. This is typical because the print runs for non-holo were larger, plus holographic cards just look cooler to collectors.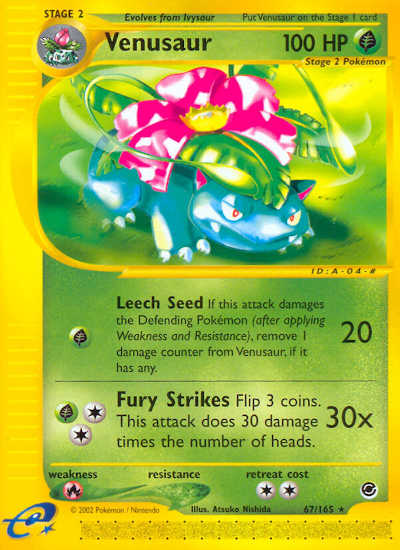 The last Venusaur Pokemon card from this set we're going to discuss has different artwork. This card is numbered 67/165 and comes in Holo, Non-Holo, and Reverse holo form. The holotype will always be worth the most.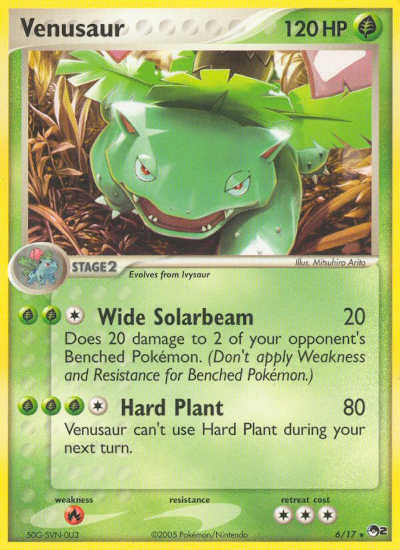 In 2005 a similar design Venusaur was produced but from a more modern set called the Pokemon POP Series 2 set. Most Venusaur cards from POP Series 2 will be worth $1 to $5 at most.
This set, like many others, had a very small pull rate for the Venusaur card which was holographic. Today these cards are very hard to come by in mint condition and demand a huge premium in the market.
The later the Pokemon card set was printed, the less valuable it may be. This is common for all Pokemon cards however it's not always 100% accurate. The holo Venusaur 6/17 from POP Series 2 is a perfect example of a valuable card even with a later print date.
When it comes to the Venusaur card and its history, the Pokemon/Nintendo company is constantly designing and releasing new sets with Venusaur in them. If you're interested in learning about the 40 different cards printed for Venusaur since the release you can visit Bulbapedia for more information.
How to Grade Your Pokemon
Now, it's time to understand a major factor when determining the value of any Pokemon card.
The grade, or condition, is typically based on a 10-point numerical scale used across all grading companies, CGC, BGS, and PSA.
Certified Guaranty Company defines a 10 as "The card must have perfect centering and no evidence of any manufacturing or handling defects."
The Grading Scale
The highest grade possible is Gem Mint or Perfect, this means there are no signs of wear, handling, and the card is perfectly centered.
One of the most important factors when determining the grade is the centering.
With trading cards, sometimes an extremely poorly centered card will be considered an error card and bring a premium.
The above image is a perfect example of a Venusaur card that is so poorly centered, collectors call these cards Off-center. Off-centered cards are done during the printing process and is completely normal. There are however some people who specifically collect this type of Pokemon.
In an ideal world, all bills would be printed equally and perfect… with perfect centering and no flaws.
This, however, is not the case. A poorly centered Pokemon card, gem mint or not, takes away from the Pokemon cards overall eye-appeal and should always be taken into consideration when evaluating high-grade Venusaur Pokemon cards. There are certain collectors who collect specifically off-centered Pokemon cards.
Regardless of the grade or appearance, we buy all 1st edition Venusaur cards. Contact us today if you have Pokemon cards you want to sell.
Don't be fooled, the picture above may look to be in spectacular condition but it's not.
This 1st edition Venusaur card was graded PSA  8, meaning it's Near Mint (NM). Pokemon cards that are NM have small handling defects. Centering of the margins is still a value factor even on NM trading cards.
This is a reason why Third Party Grading companies, like PSA, are so important to this hobby.
If you send me a picture of a Venusaur card you want to sell, it can be difficult to tell the exact grade from a photo.
But don't worry, there are ways around this if you were selling your raw Pokemon collection to a trading card expert online.
Let us know if you have a Pokemon collection you want to sell.
You can start to see a difference in quality once the grade gets into Excellent (EX). Pokemon cards that are EX, numerically 5 or 5.5, are moderately played cards with small and moderate defects.
As seen in the picture above you can see heavy scratching across the entire holographic area. If seen in person, the card would show signs of play and handling. These are all value factors for all collectible trading cards.
First edition Venusaur cards from base set will typically show more signs of handling, and be lower grade. This is due to the limited number printed with heavy handling during the cards' lifetime.
Remember these cards often passed through many hands on the playground. I vividly remember the first time I saw a Venusaur card was in 3rd grade. They were the pinnacle of Pokemon and not many kids had the opportunity to own such a rare card.
All of the above Venusaur cards are not typical, you don't normally see them in EX or higher grades.
Very Good (VG) Pokemon cards will be heavily played cards with some major defects. Numerically, a VG Pokemon card will be graded 3 or 3.5 on the grading scale.
The above picture is a perfect example of just that. These Pokemon cards will typically look heavily played and handled.
Most Venusaur cards we buy look just like this, and we can pay the most competitive price for these. Collectors typically don't want to spend thousands of dollars for a 1st edition Venusaur so a VG graded Pokemon is often a sweet price point for many.
I couldn't find an image of a completely destroyed Venusaur, but I've owned plenty during my time collecting. Even cards that look like above, if rare enough, can be worth money.
You may be wondering if I would buy a Pokemon card in this poor of condition… the answer is most definitely YES.
A Pokemon card in Poor (P) condition will look similar to the card pictured above. These Venusaur cards show evidence of considerable play with soiling, stains, splits, tears and paper pulls are all common for the grade.
Numerically the Poor grade has a special place for a single "1" grade and that is the lowest the scale goes.
We love buying low grade Venusaur cards from collectors around the United States.
Most 1st edition Pokemon cards we see are lower grades like this due to their long-time spent in circulation. Pokemon cards that look like this have spent a lot of time in the pockets of eager children who love Pokemon.
Many people think if they have a Venusaur card they've hit the jackpot, which can be the case sometimes. If your card looks like the one above it may not get much love from most people. But we'd love to buy it!
Some collectors really enjoy collecting beat up Venusaur cards, that's just their thing, we're one of them!
I love collecting primarily old Venusaur cards from many different Pokemon sets. It's what I grew up with, its very nostalgic, and I usually pay a pretty penny to get the cards into my collection.
How do I see what grade my card is?
Third-party professional grading companies, like PSA, BGS, and CGC, focus solely on doing this for their customers. They essentially grade the card, put it in a clear holder, with a label that explains the details of the card.
This takes the guesswork out of seeing a raw (no holder) card and not being sure if it's an EX or Gem Mint.
The difference between EX, NM, or Mint can literally be hundreds, if not thousands (at times) dollars.
While lower-graded Pokemon cards are easier to determine the grade from a picture; high-graded Pokemon are much different.
Some cards are inked and cleaned, making conditions extremely difficult to see in pictures.
If you have an old Venusaur card you're interested in selling or want to know its value, send us a picture and we'll be glad to help.
Whatever you do, do not bring your collection to a pawn shop or card shop who doesn't know its true value. Contact a trading card expert to get the most for your collection.
Rare Varieties & Types of Venusaur
Let's discuss the types of Venusaur cards. Venusaur cards come from many different sets printed at different periods of time. Depending on when yours was printed could mean the difference of hundreds or even thousands of dollars.
The majority of Venusaur we see are poor condition GX-era cards. These are considered one of the most common types and is likely the type of Venusaur you have in your hands.
The condition, artwork, and language are all very important when trying to determine the value of any Venusaur or Pokemon card in general.
Cheap vs Expensive Venusaur stoise
If you're trying to figure out the difference between a cheap Venusaur and an expensive one, the first place you'll look at is the type of card.
Sometimes it's hard to determine the type of card you have, which is why you should follow this guide. If your card looks similar to the one pictured below, there's a chance your card isn't worth very much, especially if the condition is played.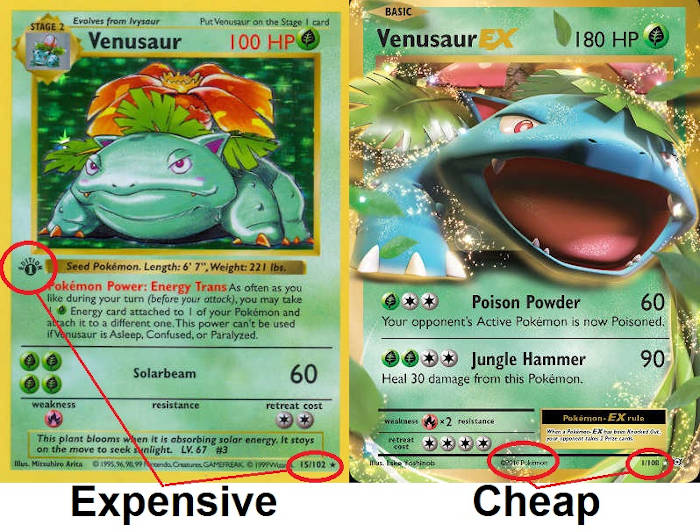 Sometimes a few key indicators can mean the difference between an expensive and cheap Pokemon card. The above diagram shows a card, to the left, that is extremely expensive vs a card, to the right, that is very cheap in played condition.
The thing about expensive and cheap Pokemon cards is the market is constantly changing. New release Venusaur cards have a chance to be valuable depending on numerous factors that we go over in this guide. If you're unsure what you have, feel free to contact us today we'd be glad to help you!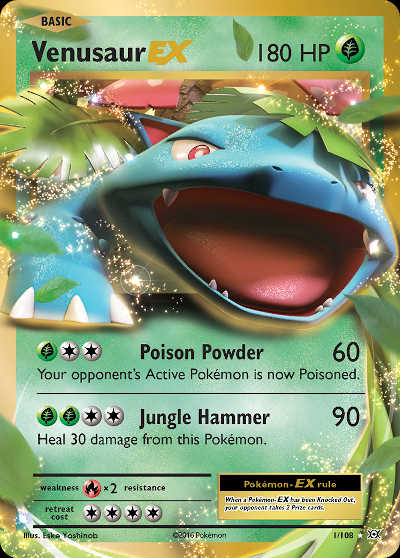 The value of this Venusaur EX in played condition is about $2. When on the other hand if you were to have a 1st edition Venusaur from base set in played condition, as shown earlier in the guide, you'd be looking at potentially thousands of dollars in your hand.
Venusaur EX cards were printed in the masses, and relatively brand new being printed in 2016. A general rule of thumb for modern Venusaur cards is the cooler the artwork, the more money it will potentially bring.
Venusaur is quite literally the pinnacle Pokemon card when it comes to the game, both from playability to collectability. This is the card that everyone wanted growing up, and to this day is still the card everyone wants.
High-grade condition Venusaur cards
When it comes to pristine condition Venusaur  cards, they will almost always fetch a premium over poor condition cards regardless of their type. This is simply due to the supply and demand of perfect condition Pokemon cards in the market.
The majority of cards opened are by a younger generation, and they tend to handle and play with the cards while older generations will put the cards directly into a protective holder.
It's a general rule of thumb that the better the condition, the more money it will bring in an auction or sale.
Low print run Venusaur
Again, this circles back to the general subject of supply and demand. Put a very popular Venusaur card with low print runs into the market and it's going to be worth money.
We're always buying all types of Venusaur  cards that are from low and high print runs, this is simply because we love collecting Pokemon cards.
One of the lowest print runs is arguably the 1st edition Pokemon cards from base set. While there were no official numbers ever released to the public, it's known to be one of the shortest print runs for Pokemon.
Error or Misprinted Venusaur cards
I've seen many Error Pokemon cards through my years of collecting and I guarantee that Venusaur cards have the least amount of errors on them.
Why? Because the combination of high demand for Venusaur and the fact many collectors love errors makes these incredibly hard to find when they do come around.
Whether the card is off-center or its entirely an error with a missing print or upside down back, the card will bring a nice premium.
Venusaur error cards are rare, and they are usually minor. Error cards will typically be worth 2 to 3 times over their typical value depending on if you find the right buyer.
If you need help determining if your Venusaur is an error card send us a clear picture and we'll get back to you within 24 hours.
Help… is my Venusaur fake?
Good news, I'll start by saying there is a good chance your Venusaur is real. If it's fake, aka a "proxy" card, it's worth $0.
We've handled literally millions of Pokemon cards
during our time collecting. If there's one thing we're good at, it's spotting a fake Pokemon card.
We have seen nearly every single fake counterfeit Venusaur 1st edition card under the sun.
Seeing images over a computer screen can sometimes be difficult when determining authenticity. That's why when we get offered a Pokemon collection we can't offer our best price until we see the cards in hand.
While it may be second nature for us to spot them out, we wanted to take some time and put together this guide to help you spot fake Pokemon cards and better educate yourself.
If your Venusaur  is any/all of the following, your bill is fake:
It's laminated
It's black/white
It feels like printer paper
It's smaller than Pokemon today
It's much bigger than Pokemon today
It does not have a holographic layer
It looks blurry
It doesn't feel like a Pokemon card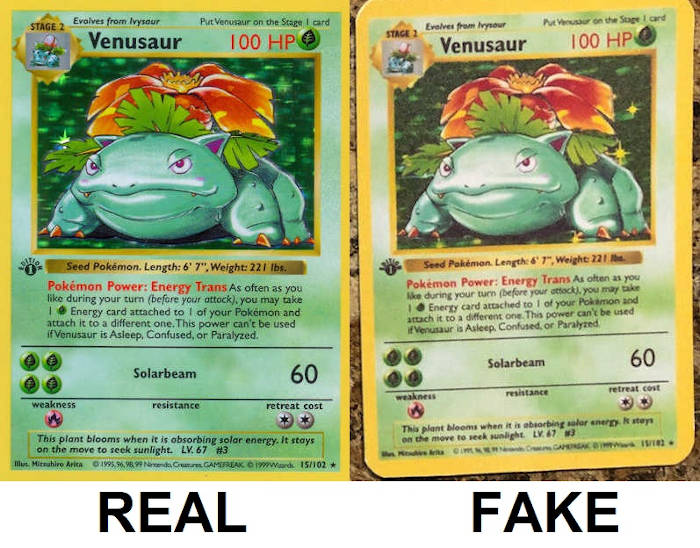 There are many other factors that go into finding out if a Venusaur card is fake or real. These are the quick indicators that are easiest to spot when first learning.
First edition Venusaur  cards are typically one of the most highly counterfeited Pokemon cards in the world. This comes as no surprise when it is one of the most sought-after Pokemon cards in the game.
The more valuable a Pokemon card is, the higher chance it has of being faked. If you need help please send us a picture and we'd gladly determine the authenticity of your 1st Edition Venusaur card.
Selling your Venusaur Card
It's easy...
1. Snap a Photo
(Send us a clear photo of your Pokemon Cards)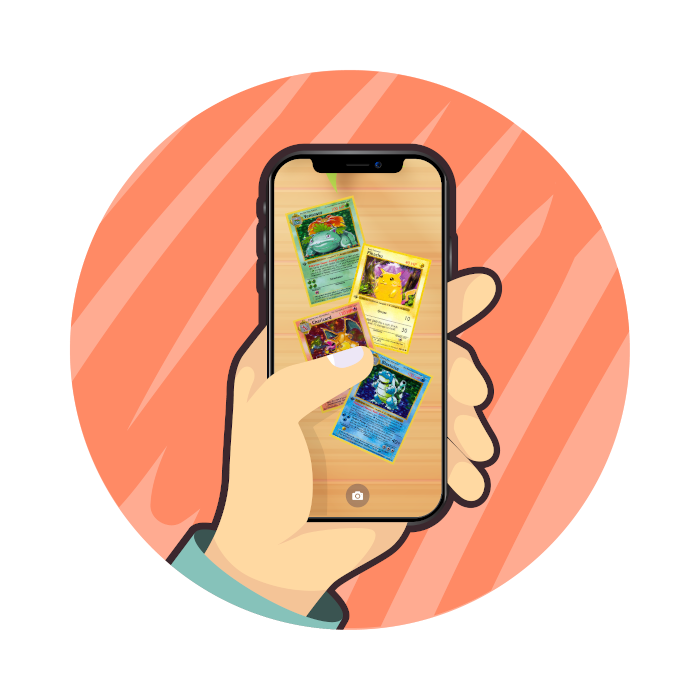 2. Get a Price
(We will make you an offer straight away!)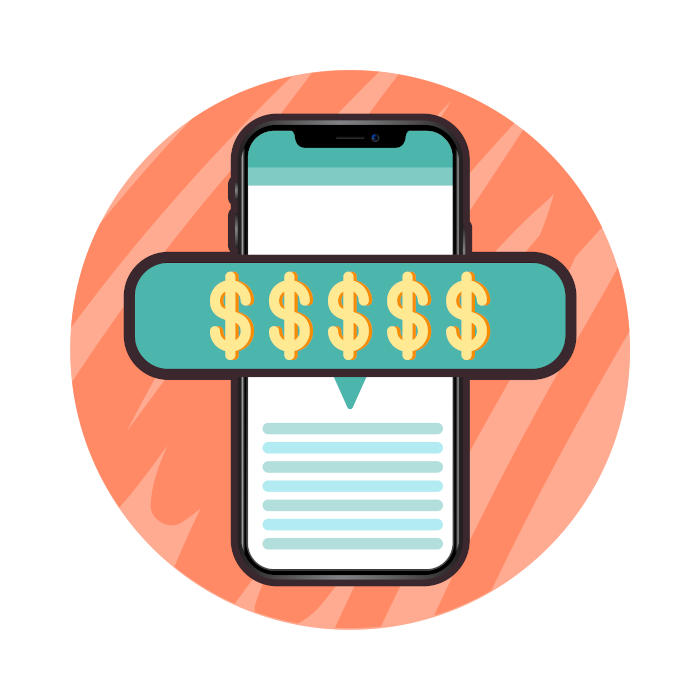 3. Payday
(We pay you!)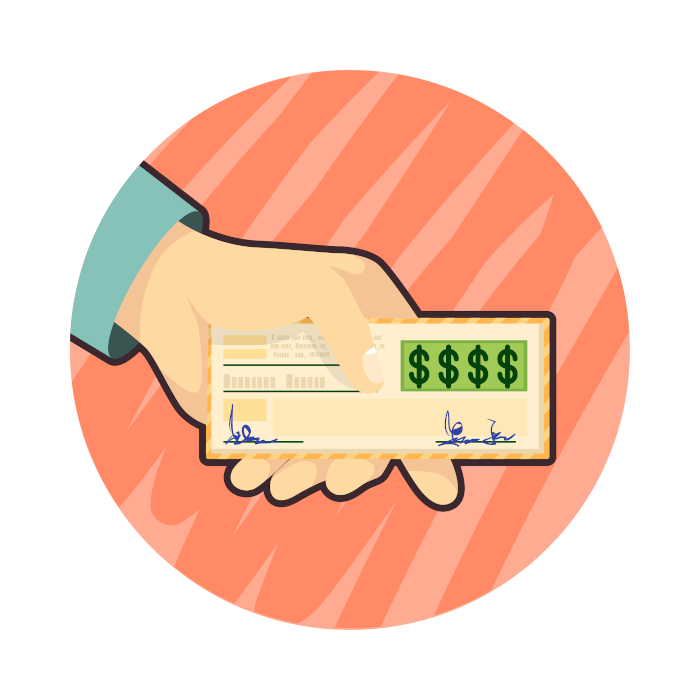 An old Venusaur card has been given to you from a friend or passed down from a family member and you don't really care to keep it. You'd much rather have money in your bank account.
The absolute worst thing you could do is bring your Venusaur Pokemon to a pawn shop. They will likely pay you an extremely small percentage of what the card is actually worth.
You want to avoid selling your card or Pokemon collection to a large company as well. These larger companies have numerous employees and high overhead costs. High overhead costs lead to requiring the company to pay less for Pokemon cards. This results in less money in your pocket.
Find a Pokemon Expert
Pokemon experts are different than your typical local Pawn or Card shop.
Most experts are collectors themselves and truly love the hobby as a whole. Almost all local shops are almost required to rip-off the people they're buying from.
They do it in order to pay for renting a big building and having multiple employees. I've been collecting Pokemon cards almost my entire life. This is something I'm truly passionate about.
Safely Shipping your Pokemon collection
Shipping your Pokemon cards to us is easy.
When you ship your collection to us it's important you insure it for the amount you feel comfortable with. If you're unhappy with the final offer we give you once we receive your Pokemon cards, we will return the Pokemon collection to you with shipping paid by us.
Getting Paid
Payment is sent via PayPal or checks when you sell your Pokemon cards to us. Once we receive the package we verify the Pokemon and send your payment the same or next day.
We have satisfied thousands of collectors who shipped us their Pokemon cards.
There currently isn't anyone who can offer more money for your old Venusaur card than us. Why?
Simple.
We don't have to pay hundreds of employees like others. This allows us to pay you more money than anyone else. We want to buy your old Pokemon collections and I assure you'll be satisfied dealing with us. We've made the process extremely simple, contact us today we'd love to chat.
Sellpoke.com
4.9/5     ★★★★★     2 Reviews
Verified Customer Reviews
A+++++ Very easy process selling my Pokemon cards. Sellpoke.com is an easy to navigate and very informational website when it comes to Pokemon cards! I found this site through a Google search with no prior references. I received more money for my Pokemon cards than anyone else offered me. I would recommend to any friends and family.
I was hesitant about selling my Pokemon cards online before coming to you guys. Not only did you offer more money for my cards than any local shop, but you also made the entire experience painless. The entire process was refreshing. Thank you!!!
We get hundreds of frequently asked questions each week via calls, emails, and text messages.
Before contacting us, we wanted to answer any basic questions you have about your antique 1st edition Venusaur Pokemon card.
If you don't see your question below or are interested in selling your Venusaur card to us, feel free to contact us today.
Old Venusaur Card Questions
Why Don't I See My Venusaur Card In Your Price Guide?: Our price guide mainly shows the older generation Venusaur cards. You're in luck… we definitely buy all Pokemon cards even from newer sets.
What Is An Error Venusaur Card Worth?: Misprinted, or error, Venusaur cards are extremely scarce and when they do appear, the errors are super minor. I've never seen a dramatic error on a Venusaur card due to the limited quantity of them printed. We wrote a bit more in-depth about Pokemon card errors in a section located above. Error Charizard cards typically bring a small premium above their normal value.
How Much Is A Venusaur Worth?: The quick answer is most Venusaur cards will be worth $20 to $8,000. Some are only worth $35 if they're in very poor condition. In very rare instances your Venusaur card could be worth close to $15,000. It depends upon multiple factors including condition, set, edition, eye appeal, market demand, and more.
Can I Get A Venusaur From A Store Today?: Sure. You could go to a local store right now, buy a pack and potentially pull a Venusaur card.
How Do I Know Venusaur Is Real?: We touched on proxy Venusaur cards earlier in the guide. Essentially there are multiple factors that help determine the authenticity of your Pokemon card. To learn more, find the section above that talks more in-depth about counterfeit Venusaur cards.
Why Doesn't Wizards of the Coast Print Old Venusaur Anymore?: Luckily for collectors, the Pokemon/Nintendo company no longer prints the original set from Pokemon. Reprints are something that hurts the value of any collectible.
What Do Counterfeit Venusaur Cards Look Like?: Pokemon cards that are black/white, laminated, smaller, or larger than typical Pokemon cards, are all going to be fake. If it's too good to be true, it probably is. Please send us a picture if you want your Venusaur to be authenticated.
What Is The Most Expensive Venusaur Cards?: Without a doubt, the first edition Venusaur cards from base set in perfect condition are the most expensive. Contact us for more information.
Learn More About Values of Rare Pokemon Cards
© 2023 Pokémon. © 1995–2023 Nintendo/Creatures Inc./GAME FREAK inc. and Pokémon character names are trademarks of Nintendo. The Sellpoke.com website is not supported, sponsored, or in any way affiliated with Nintendo/Creatures Inc./GAME FREAK inc.
Copyright © 2023 sellpoke.com